This post is also available in: Italiano
This dessert is a classic in Italian cuisine and is also famous abroad. I think it is the only really known Italian dessert and it is available in all foreign restaurants that define themselves in Italian tradition. The main reason is related to the ease of execution and the softness that makes it pleasant to taste, even after a big dinner.
It's actually a very caloric dessert, not surprisingly, the word "Tiramisu" recalls the energy that comes out from its consumption. My husband loves tiramisu so once or twice a year I make it. In order to be truly perfect it is necessary that all ingredients are excellent and the preparation is accurate. The mascarpone cheese and the eggs must be fresh because everything is processed raw. The ladyfingers that I use are a "Sardinian" type that are wider and longer than the common type. They keep their consistency even after soaked despite their softness.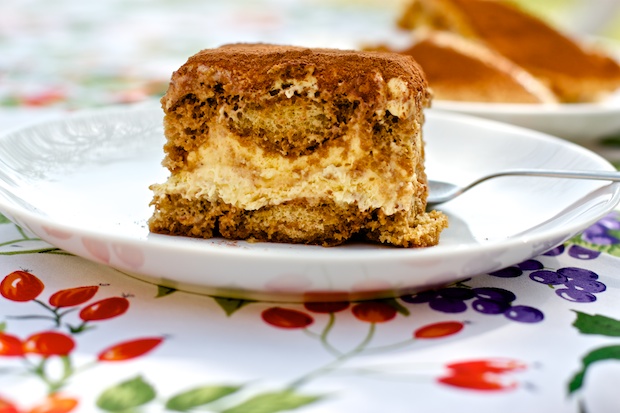 TIRAMISÙ
Preparation time: 30 minutes
(For 8 people)
18 oz. mascarpone
5 egg yolks
5 tablespoons of sugar
2 tablespoons Grand Marnier (optional)
½ teaspoon of vanilla extract
1 pinch of salt
1 package of ladyfingers
¼ liter of coffee
¾ cup of water + 4 tablesoons of sugar
1 tablespoon unsweetened cocoa powder
Prepare the coffee, you must obtain ¼ liter, boil water in a bowl with the sugar. Add the water and sugar to coffee in a bowl.
Beat the egg yolks with the sugar, vanilla, salt and Grand Marnier.
Beat with a whisk (preferably electrical) until the mixture is light and fluffy. Add spoonfuls of the mascarpone mix thoroughly.
Prepare a baking dish, arrange a layer of ladyfingers soaked quickly into the liquid coffee. Pour half of the cream.
Cover with soaked ladyfingers. Pour over the remaining cream.
Cover with plastic wrap and refrigerate. Just before serving, remove from refrigerator and sprinkle over a sieve with cocoa powder.