This post is also available in: Italiano
During this strange summer my garden produced lots of eggplant so I decided to take an old recipe for "La Cucina Italiana" I had tried in the past from my Aunt Rita.
The recipe is presented both in the classic version with a dressing made from fish and in a version created by me that can be used by vegetarians and vegans. The whole family liked this sauce, perhaps even more than the original.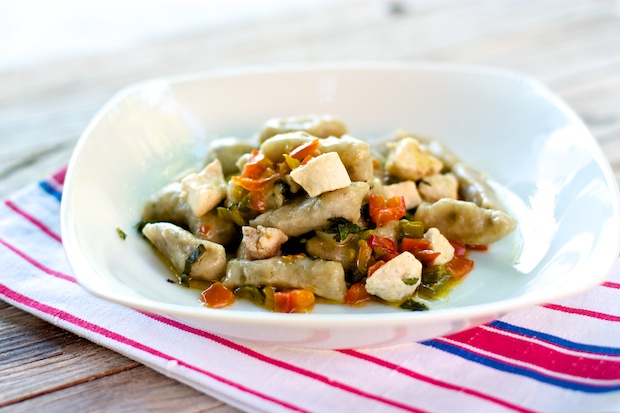 GNOCCHI WITH EGGPLANT AND POTATOES
Preparation time: about two hours (including cooking the potatoes and eggplant) | Cooking time: 5 minutes (final cooking of the gnocchi)
For 8 people

Gnocchi
700 gr. potato
2 large oval eggplants
250 gr. flour + a little to work the gnocchi
a bunch of basil
1 tablespoon extra virgin olive oil
salt

Fish Sauce
200 gr. Swordfish (1 fillet)
200 gr. of red and yellow peppers
2 cloves of garlic
fresh chilli
basil
3 tablespoons extra virgin olive oil
salt and pepper

Vegetarian Sauce (as an alternative)
50 gr. toasted hazelnuts
1 tablespoon pine nuts
1 clove of garlic
1 small bunch of basil
50 gr. pecorino
½ cup extra virgin olive oil

VEGAN SAUCE (as an alternative)
the same ingredients of the vegetarian without using the cheese
Thoroughly wash the potatoes, leaving the skin intact. Immerse them in a pot with cold water. Bring to a boil and cook until fork tender, but not earlier than 30 minutes.
Preheat oven to 400 degrees.
Cut the eggplant in half, cut into the flesh with cross-cuts, sprinkle with salt, oil the cut side and put it in the oven with the cut side that rests on the parchment paper.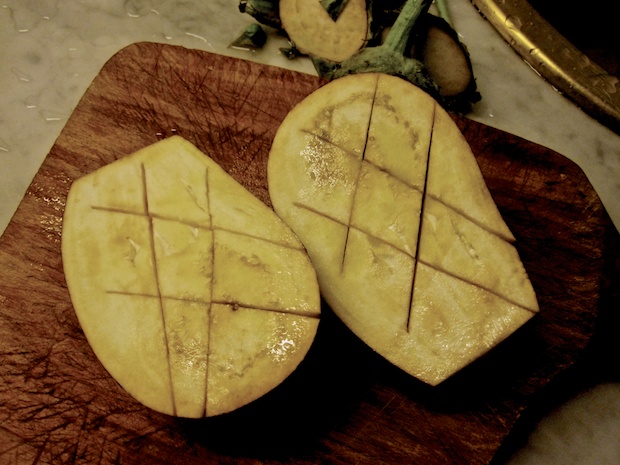 Cook for 40 minutes. Then remove from the oven and use a spoon to scrape the flesh.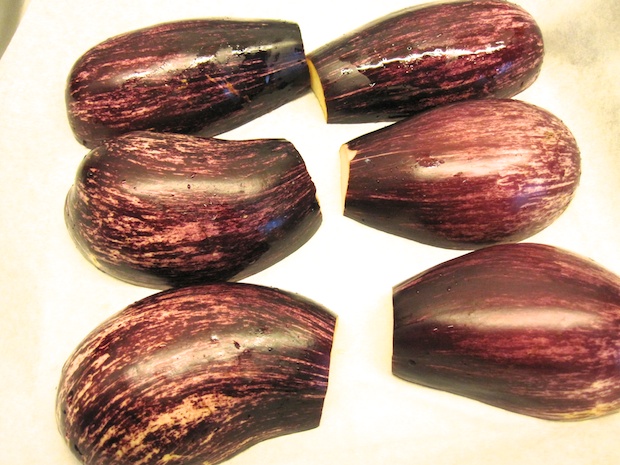 Peel the potatoes and, while still hot, mash them together with the flesh of the eggplant.
Allow the mixture to cool then add the flour and a handful of chopped basil.
As they cool, prepare the topping.
FISH SAUCE
Cut the fish into small cubes along with the peppers. Add everything into a pan of olive oil, garlic and crushed red pepper; sauté over high heat for 3 minutes. Turn off the heat and keep warm.
VEGETARIAN AND VEGAN SAUCE
Add all the ingredients into a blender except for the grated cheese and served over gnocchi just before serving. (For the Vegan Sauce, leave out the cheese).
Boil water in a large pot with a nice big pinch of salt.
Meanwhile, knead the mixture of potatoes and eggplants, pour it on the table dusted with flour and, having reduced a large sticks a finger sticks cut into small pieces. (Gnocchi)
As soon as the water boils pour the gnocchi with a slotted spoon and remove them from the water as they move up to the surface.
Drizzle with the sauce and serve immediately.