This post is also available in: Italiano
I tasted "cjalsons" for the first time in Tolmezzo in the 70s, in the restaurant of the most famous chef in Carnia, Gianni Cossetti.
Their aroma thrilled me. Mixing sweet and savory flavors in a potato-based pasta wrapper is truly brilliant. This recipe comes from the imagination of the women of Carnia who have always been accustomed to making with what "you have" at hand and at a low price.
It is said that this recipe was already made in ancient times by the wives of the "cramars": in the winter they loaded a sort of wooden backpack with many drawers on their backs and went to sell their spices in Austria, Germany and Slovakia. These spices were recovered by Venetian merchants who imported them from the Far East. When these street vendors returned, the wives collected all the leftovers and created the filling for these ravioli. Pears, plums, quinces, ricotta and butter are the typical products of the place. Potatoes were not a problem because every vegetable garden in Carnia produces them of excellent quality and therefore it was enough to buy a little flour. There are as many variants of this particular ravioli as there are families in Carnia. This one that I present to you is my favorite.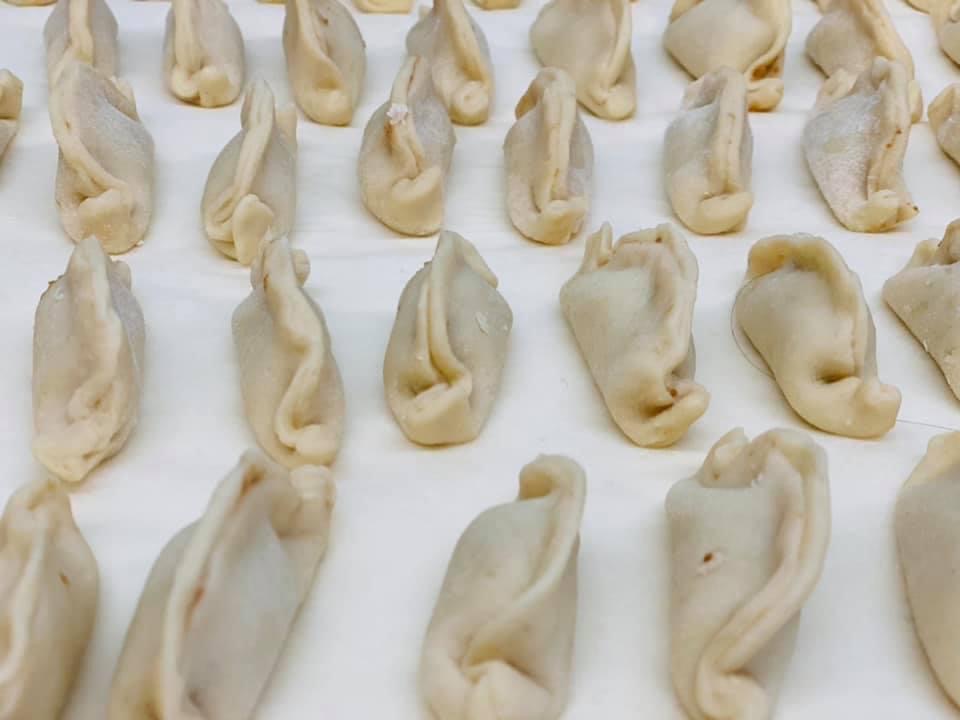 Cjalsons
Course: Pasta, Recipes
Ingredients
For the pasta

4 potatoes

Equal weight of flour

Per il ripieno

65 gr. fresh ricotta

35 gr. figs

35 gr. raisins

35 gr. prunes

30 gr. fresh pear pulp

35 gr. quince jam

2 spoonfuls of pear grappa

1 spoonful of dark cocoa powder

1 pinch of cinnamon

Per il condimento

60 gr. smoked ricotta

20 gr. cinnamon

10 gr. sugar

60 gr. clarified butter
Directions
Boil the potatoes in their skins and, when cooked, allow them to cool and peel them.
Mash them and mix them with the flour, working everything until a homogeneous and smooth dough is obtained. Let the dough rest for about 30 minutes after wrapping it in cling film.
Meanwhile, prepare the filling: Chop the figs, raisins, plums and pear. Mix these ingredients with the ricotta, jam, cocoa, cinnamon and grappa.
Roll out the dough with a rolling pin as for a normal ravioli dough.

With a pasta cutter make some circles. Inside each circle arrange some filling. Fold the circle in half to form a half moon. Take the tips of the crescent back and fold them back on themselves, in this way the ravioli can stand upright (to better understand, look at the photo).
Bring water to a boil and a little salt. Add in the cjalsons and cook them until they float (like gnocchi). Mix the sugar with the cinnamon. Season the cjalsons with smoked ricotta flakes, some of the mixture of sugar and cinnamon. Sprinkle with a little hot melted butter and serve.