This post is also available in: Italiano
Whenever I happen to eat at a seafood restaurant, I always order octopus or squid as an appetizer. I really like this mollusk, but up until a few years ago, I thought I wouldn't be able to make it as soft and tasty as in the restaurant.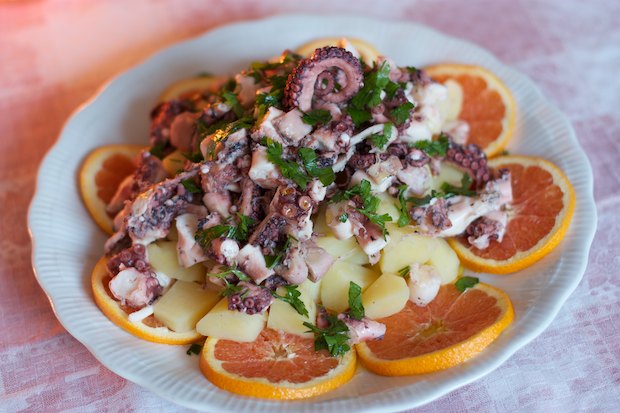 One day, the man that I buy fish from at the grocery store, amazed that I had experimented with all types of fish but not octopus, asked me the reason why. I explained why and he revealed a little secret that I'm happy to share with all of you.
This recipe is suitable as a one dish dinner or it can be a starter, and in this case, reduce to half the weight of the octopus and potatoes, but leave the spice amounts unchanged.
OCTOPUS WITH POTATOES
(Serves 4)

2.5 pounds of thawed octopus
1 carrot
1 onion
3 celery sticks
1 bay leaf
1 cup white wine
1 bunch of parsley
4 large potatoes
4 tablespoons olive oil
1 tablespoon lemon juice
1 orange to decorate
salt and pepper
Wash the octopus then place the carrot, onion, celery, white wine, and octopus in a pot. Cover with cold water. DO NOT ADD SALT. Simmer for 45 minutes covered.
After 45 minutes, turn off the heat and leave the octopus in the pot until it's time to serve it. This is the secret. The ideal cooking method is to let the octopus cool down in the cooking water at least two or three hours before serving. If you don't have time to do this, try another dish.
While the octopus is resting, peel the potatoes and cut them into cubes. Add a bit of salt to a pot of cold water and cook the potato cubes for about 15 minutes. Check to see if they are cooked with a fork. The should still be firm. Drain the potatoes from cooking liquid and arrange them in a large serving platter.
Remove the octopus from the cooking liquid and cut it up into pieces. Place it on top of the potatoes. Finely chop the parsley and sprinkle it over the octopus. Emulsify the olive oil, pepper and, lemon with a fork. Pout it over the serving platter. Cut an orange into round slices, not too big, to decorate the plate.
Bring to the table and serve.